FROM THE VAULT
Posted by MASAYO YASUKI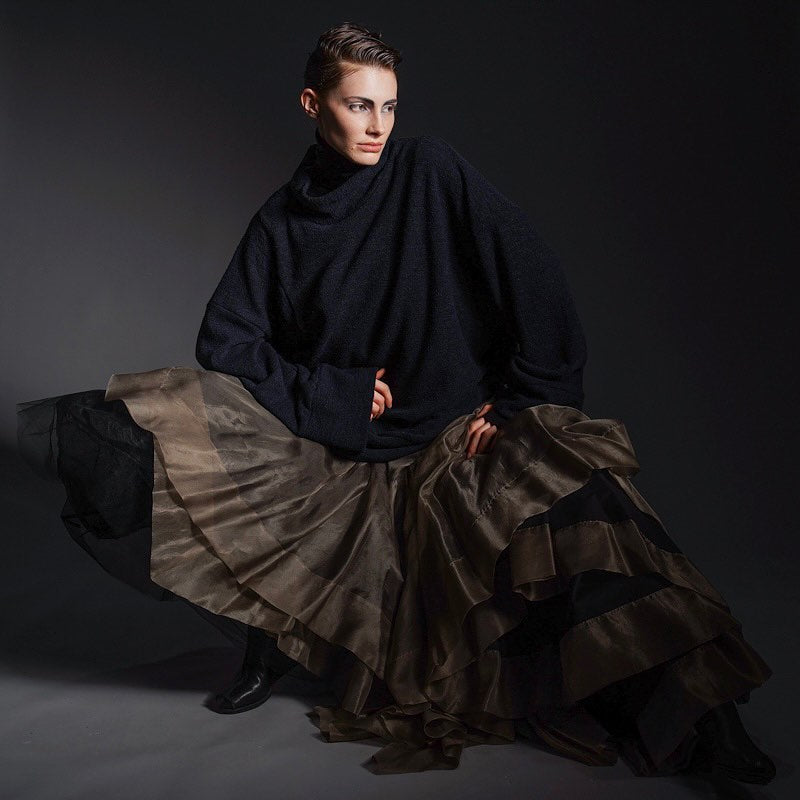 We originally had envisioned a different skirt for styling, but it wasn't quite right. When we styled, it lacked essence.
After rushing in the final few moments, I pulled out this khaki silk peaking through the mountains of sample racks. The relic emerged, it was the Napoleon Six Dress, from many, many years ago.
Josh and I grabbed each end and pinned, scrunched and layered to our hearts content creating the volume and shape we needed to complete the look.
Silk cascading, dancing through the air, endless movement as the light reflected off the fabric. It reminds me how these pieces can be timeless and forever live on no matter how much time seems to pass me. Handling and controlling the 8 metres of silk organza for each skirt was challenging. But it was so beautiful when all the layers played in different shades.
One day, I would love to come up with a new version of this skirt. This archive piece entwined with our modern day Maddox Top was the perfect pairing of old and new. What dogstar pieces in your collection do you still wear? Do you have any memorable clothes or ensembles that still resonate with you?

Collection 2019
Sale 70% Off
Title for image